Pedagogia: Jurnal Ilmiah Pendidikan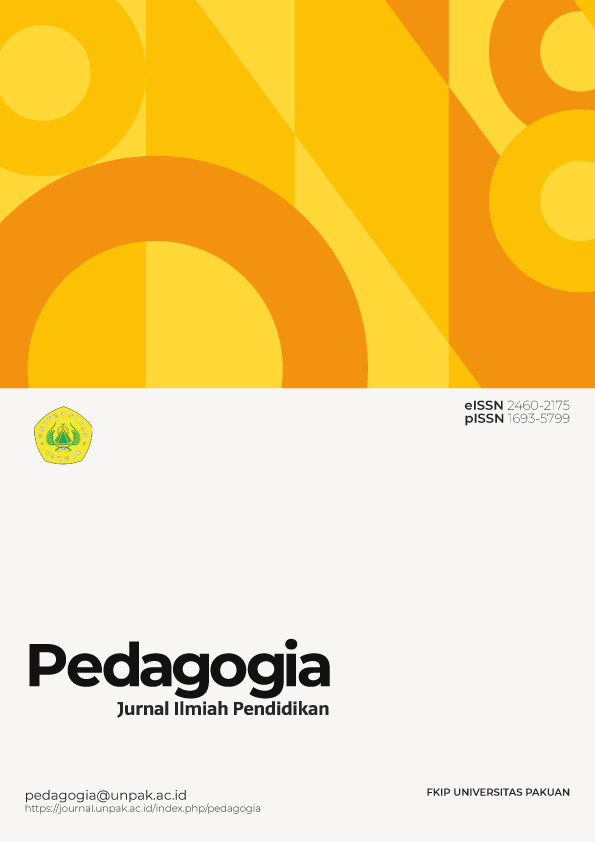 Welcome to Pedagogia: Jurnal Ilmiah Pendidikan,Pedagogia: Jurnal Ilmiah Pendidikan is a journal that publishes scientific papers in the field of education. This Journal, run by Faculty of Teacher Training and Education, Universitas Pakuan. The Journal provides opportunities for scholars to submit papers in education, and also journal is devoted, but not limited to, primary education, secondary education, higher education, teacher education, special education, adult education, non-formal education, and any new development and advancement in the field of education. The scope of our journal includes (1) Language and literature education; (2) Social sciences and humanities education; (3) Sports and health education; (4) Economy and business education; (5) Math and natural science education; (6) Vocational and engineering education, (7) Visual arts, dance, music, and design education, (8) Management Education and (9) Educational Community Service fields in elementary school, middle school, high school, even in college which will be published online. The internet connection will add to the richness of information and scientific knowledge derived mainly from research. This journal is published two times a year (July and December) and includes a variety of educational papers by writers from various backgrounds. In addition, we also have partners from the local editors who graduated as professors from some universities who will review each article before publication. Each article or paper published in this Journal will definitely be useful to all visitors and readers.
Articles submitted to this journal will be reviewed by reviewers before publication by double blind-review. e-ISSN: 2460-2175


Announcements
No announcements have been published.
Vol 15, No 1 (2023): Pedagogia: Jurnal Ilmiah Pendidikan